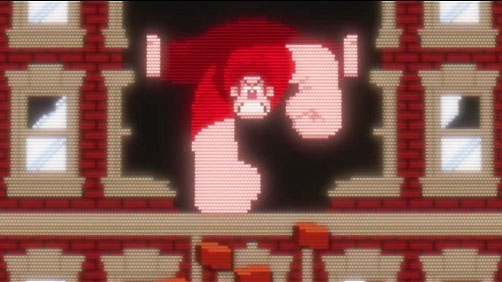 I love the behind-the-scenes of an interesting behind-the-scenes sort of film. Wreck-It Ralph is one of these cases.
For a terrific behind-the-scenes scoop, here's Germain Lussier:
Wreck-It Ralph is the title of the movie and also the main character (Reilly) who for 30 years has been a bad guy inside of an 8-bit video game, Fix It Felix Jr. One day he decides he doesn't want to be the bad guy anymore and escapes his game into other ones in the arcade, trying to prove he can be a hero. Along the way, he'll encounter multiple different games, characters and more, which are detailed below.

Wreck-It Ralph has 188 unique, individual characters, more than any Disney movie in history. Normal Disney films have between 40 and 60.

The film has 70 unique settings while the usual Disney film has about 25.

Unlike most animated films, the principal actors regularly recorded audio sessions together in the same room, a situation which led to a lot of improv.

For the first two months of story development on the film, Fix It Felix Jr. (McBrayer) was the main character. Moore soon realized his nemesis, Ralph, had a better arc.

The story initially took about nine months to break down, but wasn't actually locked until early this summer.
And if you missed the trailer, check it out: