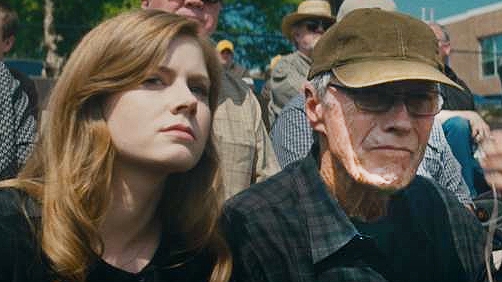 Total Film
It seemed as though he had all but retired after Gran Torino back in 2008, but Clint Eastwood is back on the big screen once more in baseball drama Trouble With The Curve, the first trailer for which has just arrived online.

Eastwood plays a grizzled old baseball scout whose body is beginning to fail him in his old age. When his daughter (Amy Adams) offers to lend a hand on one last scouting trip, Clint grudgingly agrees, only for the two to explore some home truths on their way around the country.

Justin Timberlake drops in for the ride as Adams' ball-playing love interest while John Goodman and Robert Patrick also crop up to swell an impressive ensemble.
I'm looking forward to see more of the relationships fleshed out in the various chemistries of Clint, Amy, and Justin. I enjoy the trailer thoroughly, although the screenplay might sound a bit weak. The scripts failings could be for Randy Brown's inexperience as a screenwriter, but it's unknown what exactly Randy's experience is. His profile on IMDb is bare.
And there is the director with many film credits to his name but none of which have him as main director. Director Robert Lorenz worked in first assistant director roles on many other noteworthy films; a few of those were films with Clint as well, like Million Dollar Baby and Absolute Power. Robert is overdue a test in the director's chair, and hopefully he comes out on top.
For me Trouble With The Curve is close to home. Clint plays baseball scout Gus who in the story recruited Tom Glavine, Dusty Baker, and Dale Murphy for the major leagues—all of which are ballplayers I followed growing up. Many shots in the trailer show minor league teams playing ball (including glimpses of Braves teams). I like to see everyday real-world sports interwoven into fiction, and baseball is my favorite sport.