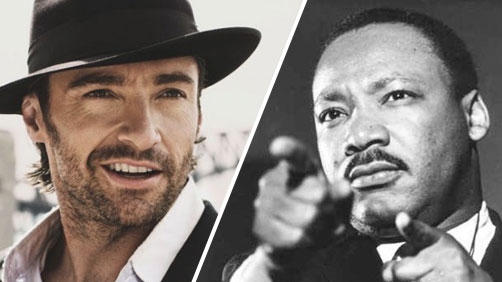 Slash Film
The LA Times says that Orders to Kill will follow "William Pepper (Jackman), a controversial attorney and activist who for decades has argued that convicted killer James Earl Ray, who recanted his confession and died arguing his innocence, didn't shoot MLK." Millennium Films is producing and financing, but a distributor isn't lined up yet.

The LAT further explains that this movie will span years as it follows Pepper's "one-man campaign" to explain that the United States government was really behind MLK's assassination. Hanna Weg wrote the script, based on Pepper's book Orders to Kill: The Truth Behind the Murder of Martin Luther King, Jr. (In other words, this could be in the vein of Oliver Stone's JFK.)
I looked into the director Lee Daniels' other notable film, Precious. While it is certainly not a pleasant subject for popcorn movie entertainment, there are serious issues addressed with a political slant from the writers, Lee Daniels, and the political rights movement.
The novel the Orders to Kill movie is based after was written by William F. Pepper, who personally knew MLK and is an expert on the subject of MLK. So the guy fictionalized his own story, and now it's becoming a movie.
Barry writing for Blather.net:
Author William F. Pepper was the man who influenced MLK to oppose the Vietnam War. Quite some time later, convinced that his friend's supposed assassin was innocent, he became James Earl Ray's attorney. This book tells the story of Pepper's investigations into the assassination.
After this book was originally published, Ray received the support of the King family. MLK's son, Dexter Scott King, provides a foreword in William's book.
I'll be curious to see where Lee Daniels takes this story and the sensitive political issues it entails, and whether Hugh Jackman's performance stands out. I think it should.