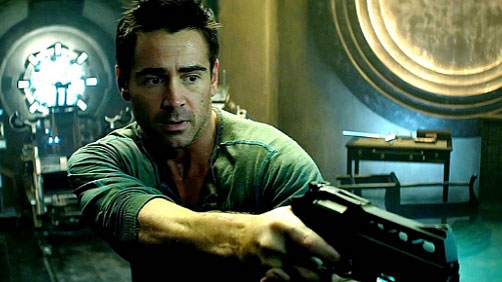 Alison Willmore on Movieline
This Total Recall does away with the wonderfully queasy ambiguity of the 1990 film, in which we're never sure if Quaid is a badass involved in a rebel conspiracy to decide the fate of the world or if he's just a regular schmuck who's become too fond of and given himself over to the illusion he purchased for himself as a bit of escapism. We never really doubt that Farrell's Quaid/double-agent Hauser is experiencing a legit reality even when another character tries to convince him otherwise — there's no sense, even when the trouble begins, that what happened at Rekall was anything but what we saw on screen, complete with an explanation for why the treatment might have triggered buried memories.
Alison I think shares a little more of Joseph's dislike of the film in our podcast episode on Total Recall. I disagree with this assement. I wondered if it was all happeneing in Quaid's fantasy (having not seen the original before the 2012 rendition) right up until [SPOILER ALERT] he shot Harry.