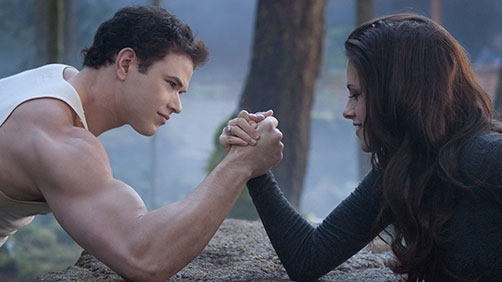 Yeah, yeah, I know. It's Twilight. But please, let me explain.
When I was younger, I used to read quite a bit. I was never really the "ravenous" reader, but I read a lot. As I grew up and started working, started making money, and started a family, my time for reading became almost none existent. But a few years ago I discovered a new way to read — audio books.
My wife was a long time fan of the Harry Potter books and she got me into it by getting me the audio book for Harry Potter and the Sorcerer's Stone. I was hooked. I listened to the entire series during my commutes, on trips, and generally whenever I could. When I was finally done with that, and had listened to couple other minor things, my wife suggested I give Twilight a try. I rebelled at first but eventually I gave in. What I discovered is that there is actually a story there. Sure it's all wrapped up in what is sometimes 3 pages worth at a time (exaggeration) of Bella talking about Edward's eyes, but there is a really good fantasy story to be had in the books.
I also found that each book was better than the previous, with the last one, Breaking Dawn, completely owning the series. It is a great book by any measure in my opinion.
Then I started watching the films as they came out. I was pretty disappointed with the first film. But New Moon, the second film in the series, was a great film. Eclipse was also decent, perhaps not quite as good as New Moon, but decent. Breaking Dawn, Part 1 met my expectations from the books with only minor disappointments. It is probably the best film in the series to date.
So with that framing, I present to you, Breaking Dawn, Part 2, Trailer 3. I am concerned with the ways it looks like they are changing the story from the book (since the book was really good, no really, please read it before you judge), but I am looking forward to the film.