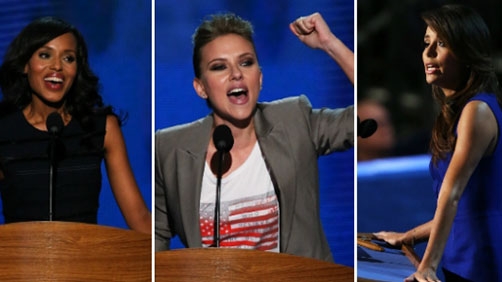 Movie Line
More from my "politics in Hollywood" series, here's three stars speaking at the DNC.
Oscar-winner George Clooney lent his voice to President Obama's campaign for a video introduction Thursday night to close out the Democratic National Convention, but it was a trio of leading ladies — Kerry Washington, Scarlett Johansson, and Eva Longoria — who gave the DNC a rousing jolt of star power in Charlotte, NC.

Washington, who manages political crises on ABC's Scandal, introduced herself as "not just as an actress but as a woman, an African-American, a granddaughter of immigrants who came through Ellis Island, a person who could not have afforded college without the help of student loans and as one of millions of volunteers working to re-elect President Obama."
And here's the first video if you can stomach it.
Taking a more personal approach, Johansson appealed to the emotionally-charged shared experiences of America's middle class, citing her own family's upbringing and dependency on public and nonprofit programs.
I had no idea Desperate Housewives star Longoria was such a political firebrand, but she brought it in her five-minute speech. The Texas native, a co-chair of the Obama re-election campaign, spoke about taking out student loans to pay for college, the President's accomplishments, and the evils of Mitt Romney's platform.
Ugh. Makes it hard for me to enjoy movies if I think about it too hard. Let the government provide for the people seems to be the messages from these stars.