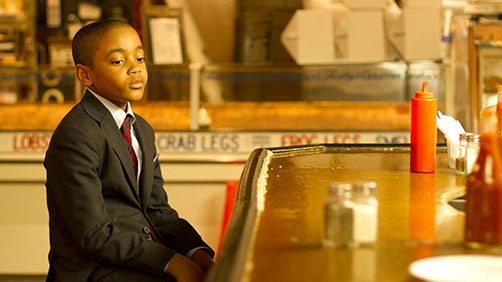 Well it seems today is a day for me to post about independent films.
Here's one I came across that looks pretty interesting. Here's the synopsis from the Apple Trailers page:
An 11-year-old boy gets a crash course in what it means to be a man when he spends a day with the uncle he idolizes in LUV, a poignant and gritty coming-of-age story featuring standout performances by Common, Danny Glover, Dennis Haysbert, Charles S. Dutton and newcomer Michael Rainey Jr. With his mother in rehab and his father out of the picture, young Woody Watson (Michael Rainey Jr.) lives with his grandmother (Lonette McKee) in suburban Baltimore and longs for his family to be reunited. His charismatic Uncle Vincent (Common) has recently returned home after eight years in prison, determined to straighten out his life by opening a high-end crab shack that will establish him as a solid citizen with a legitimate future. Soon Vincent finds himself pulled back into the violent world he is trying to escape- and Woody has to decide whether to follow his hero- or become his own man.
The trailer actually looks really good. There's some good moments, some twists, and some captivating material. And it looks like it might have a good, heartfelt story.