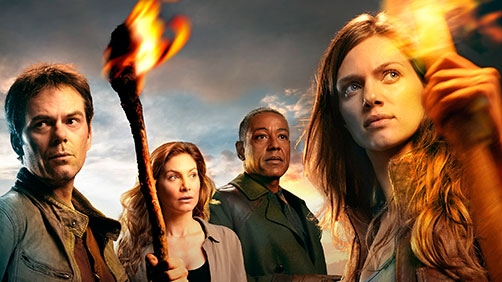 TV Line
Leading out of an amplified The Voice (which with 13.4 million total viewers and a 4.6 demo rating was up 9 percent week-to-week) and admittedly facing little competition, NBC's post-apocalyptic drama drew 11.7 million samplers while netting a 4.1 rating, making it the highest-rated network drama debut in three years (since ABC's V) and the Peacock's best drama premiere in five years (since, oof, Bionic Woman).
Alright, I suppose I should check this show out. I'm a little behind. I have not yet been able to view the Bones Season 8 premiere yet for instance, but I'll try to get to some watching tonight. Here's the description of Revolution from iTunes:
In this epic adventure thriller, a family struggles to reunite in a post-apocalyptic American landscape: a world of empty cities, local militias and heroic freedom fighters, where every single piece of technology – computers, planes, cars, phones, even lights – has mysteriously blacked out … forever. A grand romantic saga with sweeping scope and intimate focus, this drama is seen through the eyes of one strong-willed young woman, Charlie Matheson (Tracy Spiridakos), and her brother, Danny (Graham Rogers). When Danny is kidnapped by militia leaders for a darker purpose, Charlie must reconnect with her estranged uncle Miles (Billy Burke), a former marine, living a reclusive life. Together, with a rogue band of survivors, they set out to rescue Danny, overthrow the militia and ultimately re-establish the United States of America - all the while, exploring the mystery of why the power failed, and if (or how) it will ever return.
By the way, the pilot episode is free on iTunes.