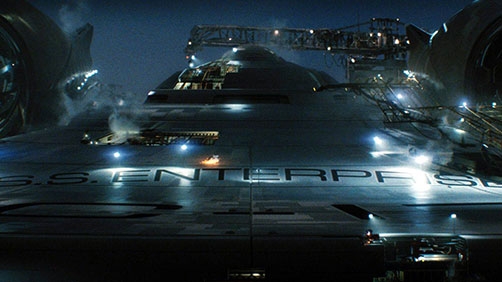 TrekMovie.com
TrekMovie has confirmed with multiple sources that "Star Trek Into Darkness" has been selected as the title for the 2013 sequel to JJ Abrams' Star Trek movie. This is a title that comes out of a long process of discussion amongst the creative team. As reported earlier, Paramount tested a number of titles for the film over the summer, including at least one title that did not include "Star Trek." Also noted in our earlier article, the title (by design) does not include a colon, like were used for the Next Generation films such as "Star Trek: First Contact" or "Star Trek: Nemesis."
I think it's a stupid title, but then there have been films that managed to change my opinion of their titles before if they were good films so I'll try not to be too harsh.
According to sources, the creative team are still working on how they will officially roll out this new title. The first acknowledgement will likely be made with some kind of visual treatment, either a type treatment for the title or possibly even a teaser poster or image. Indications are that this official roll out should be coming soon.
I am ready and waiting for the first something from this film. A trailer would be nice but it's pretty early for that.