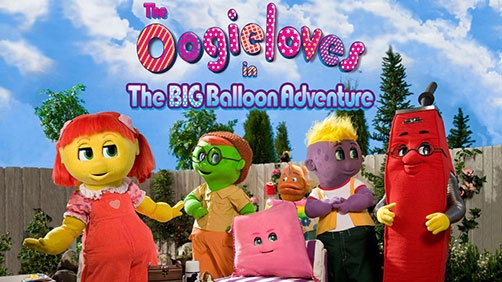 Entertainment Weekly
After its inauspicious opening Wednesday, when the bizarre kiddie flick The Oogieloves in the BIG Balloon Adventure earned a shockingly low $47 average at each theater, it looked like it could be headed for the worst opening weekend of all time for a film playing in over 2,000 theaters.

Well, it happened.

According to studio estimates, the colorful toddler-targeting entry, which is being distributed by Kenn Viselman Presents (Viselman formerly found massive success as producer of The Teletubbies), earned a truly awful $448,131 from 2,160 theaters in its debut three-day weekend.

That gross yielded a per theater average of $207. Yes, you're reading that correctly: $207!
I saw the trailer for this just a few days ago, and I kid you not, I thought, "This is a joke, someone is spoofing a trailer of some kind." Then I started looking around and realized, oh my, this is supposed to be real. It's going to bomb. And at $207, it most certainly was a bomb. As pointed out, this is a new record!