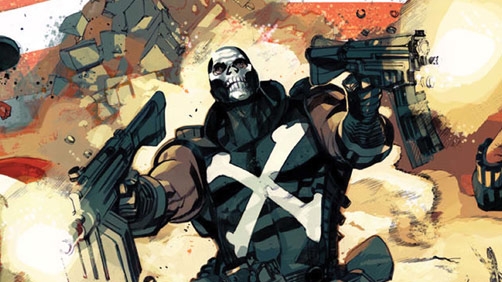 Remember The First Avenger, Captain America? He's most notable as a lead character of this past summer's The Avengers, but before that, he was the star-spangled-waving American legend of his own franchise. Marvel continues to overflow the superhero movie extravaganza with the first sequel for Captain, along with a new leading villain from Captain's comic books: Crossbones.
Frank Grillo has landed the role of the villainous Crossbones in Marvel and Disney's Captain America: The Winter Soldier.

A key villain in Captain America's rogues gallery, character debuted in 1989 as Brock Rumlow, a leader of the Savage Crims gang in New York's lower East Side before joining a school for criminals and later becoming a henchman of the Red Skull under the code name Crossbones.
It is anyone's guess at this point whether Crossbones in the movie adaptation will have a tie to the Nazi Red Skull organization. Since this is 2012, I think it is unlikely that Crossbones will have much to do with that specific terrorist organization. But in all likelihood, he will be a terrorist, and we can expect Crossbones to be quite a challenge for Captain to followup The Avengers' Loki and hoard of expendable alien soldiers.
Speaking of The Avengers, what would a Marvel movie be without cameos? Or S.H.I.E.L.D.? Captain America will get some help from the likes of Black Widow and Nick Fury in this sequel.
On the heels of word earlier today that Frank Grillo has joined the cast of Captain America: The Winter Soldier comes confirmation, via Variety, that a few familiar S.H.I.E.L.D. agents will be appearing as well. Reprising their roles from Marvel's The Avengers are Samuel L. Jackson as Nick Fury, Scarlett Johansson as Black Widow and Cobie Smulders as Maria Hill. Also confirmed to be returning, as was long rumored, is Sebastian Stan as Bucky Barnes.
Now that the cast is out of the bag, we have to wait a whole 18 months before the movie is released. Captain America: The Winter Soldier is slated for release in April, 2014. Lord knows when we will get the plot summary and trailers, but we here at MovieByte will get the scoop on it for you.