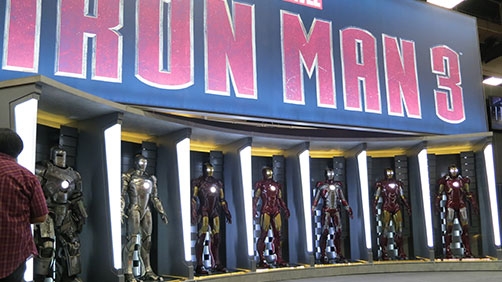 Entertainment Weekly
After being on pause for over a month and a half, Marvel's Iron Man 3 is back shooting — with no apparent interruption to its planned release next May.

Principal photography was halted Aug. 16 when Robert Downey Jr. hurt himself while performing a minor stunt. Downey's rep says the injury was to his ankle, and after taking off several weeks to recuperate, he's now back on his feet.

Filming has resumed in south Florida, where a replica of the Malibu, Calif., seafood restaurant Neptune's Net was recreated for a sequence in the movie, which has been revealed in somesnapshots from onlookers. The actual restaurant is a popular seaside hangout for surfers and bikers, which accounts for all the choppers in this photo of Iron Man and the character believed to be Don Cheadle's Rhodey, a.k.a. War Machine, sporting red, white, and blue armor similar to the comic book character Iron Patriot.

Or … are we looking at a guest appearance by Chris Evans' Captain America, trying out some old Iron Man armor with a yankee doodle paint job? (Just a random theory.)
The image is definitely an interesting one.
Also, the studio insists that Downey's injury has not resulted in a delayed release date for the film:
Although it may seem hard to believe that such a long delay in shooting would not cause a similar postponement in the release date, Marvel reps insist the May 3 debut for Iron Man 3remains on track. Although the studio wouldn't comment to explain, it's fairly easy for special effects work to continue on a movie like this even if on-set filming gets postponed.