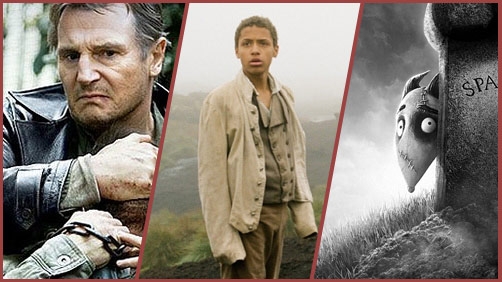 New in theaters for the weekend is Taken 2, Frankenweenie, Wuthering Heights (limited release), and many others. I would imagine if you haven't seen the trailers for these three top films yet that you are probably here to see them and not read this, so please watch:
Studio's synopsis of Taken 2:
Liam Neeson returns as Bryan Mills, the retired CIA agent with a "particular set of skills" who stopped at nothing to save his daughter Kim from kidnappers. When the father of one of the villains Bryan killed swears revenge, and takes Bryan and his wife hostage in Istanbul, Bryan enlists Kim to help them escape. Bryan then employs his unique tactics to get his family to safety and systematically take out the kidnappers, one by one.
Studio's synopsis of Frankenweenie:
From creative genius Tim Burton (Alice in Wonderland, The Nightmare Before Christmas) comes Frankenweenie, a heartwarming tale about a boy and his dog. After unexpectedly losing his beloved dog Sparky, young Victor harnesses the power of science to bring his best friend back to life — with just a few minor adjustments. He tries to hide his home-sewn creation, but when Sparky gets out, Victor's fellow students, teachers and the entire town all learn that getting a new "leash on life" can be monstrous.
Studio's synopsis of Wuthering Heights:
Andrea Arnold's Wuthering Heights is an excitingly fresh and distinct take on the classic novel by Emily Bronte. An epic love story that spans childhood well into the young adult years, the film follows Heathcliff, a boy taken in by a benevolent Yorkshire farmer, Earnshaw. Living in Earnshaw's home, Heathcliff develops a passionate relationship with the farmer's teenage daughter, Catherine, inspiring the envy and mistrust of his son, Hindley. When Earnshaw passes away, the now-grown characters must finally confront the intense feelings and rivalries that have built up throughout their years together. Arnold's film is a beautiful and evocative visual masterpiece that brings out the powerful emotions at the heart of Bronte's classic novel, resulting in a viscerally affecting love story. It is a sweepingly old-fashioned tale of family, class, and romance told in a bracingly modern way by one of contemporary cinema's most gifted and unique filmmakers.