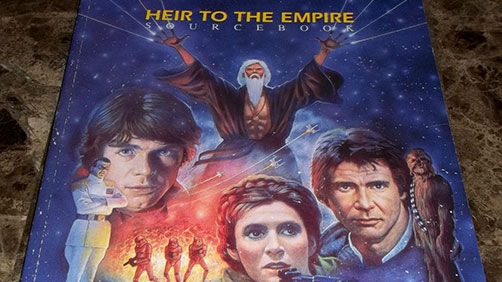 FilmoFilia.com
After agreeing a deal to buy George Lucas' Lucasfilm Ltd, Disney is to make a new series of Star Wars franchise.

The companies have set 2015 as a release target for Star Wars: Episode 7, with Episode 8 and Episode 9 to follow as the long-term plan is to release a new feature every two or three years.
And:
Die-hard Star Wars fans (TheForce.net) say that a big-screen adaptation of the first book, 'Heir to the Empire' from 'Thrawn Trilogy' by Timothy Zahn would make the most logical Episode 7.
No, just no. Please, no. Does everyone realize they would have to recast all the characters to do that? Bad plan. I'm tired of recasting characters for things.
Look, I'm just spitballing here, and I know the treatment for these films has already been written, but how about we go 30 years into the future from the events of Return of the Jedi, get some of the actors back to play the parts, but mostly introduce a new cast of characters, with sort of a send off from the older cast? I mean that seems like the right thing to do to me.