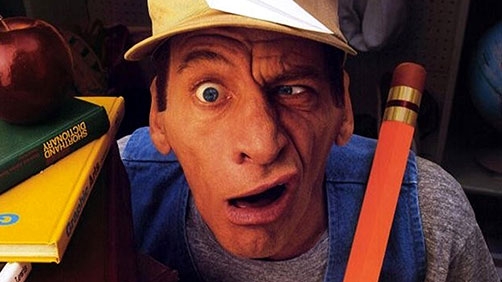 /Film
Is there any character at this point that spans TV and film in the unusual way that Jim Varney's character Ernest P. Worrell did in the '80s and '90s? The seemingly bygone career of Larry the Cable Guy comes close, but Ernest has him beat. Ernest P. Worrell, played by Varney, began life as an ad pitchman thanks to the agency Carden and Cherry, then moved into his own TV show, and headlined a nine-film series. (OK, only five of those were theatrical releases. Still.)

Now John Cherry, the character's creator and the man who directed most of the theatrical Ernest appearances, wants to exploit bring the Worrell name back to screens in Son of Ernest.
Please, please tell me this is some sort of joke. Either that or a nightmare I'm about to wake up from. Please!
...with the script centering around "Worrell's long-lost son," which would expand on the rich Ernest family mythos…
Oh, please! Rich family mythos?
This is the part that explains why this film is being made:
Translation: "because kids loved him, the Ernest character made his creators buckets of money against very low production cost. Since buckets of money are still in fashion, we'd like more of them."
Yeah, that sounds about right to me. Ugh.