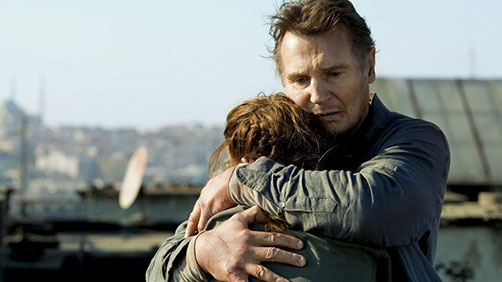 Entertainment Weekly
Liam Neeson's Taken 2 kicked its way back into the top slot for a second weekend with an estimated $22.5 million, and Ben Affleck's political thriller Argo and the Ethan Hawke horror flick Sinister were close second and third, respectively. The one-two-three punch helped boost the box office to a fabulous 47 percent gain over the same weekend in 2011, when Real Steel slugged its way to a second No. 1 finish.

While Taken 2 continues to outpace the 2009 original — after 10 days, it's notched $86.8 million, in comparison to Taken's $53.6 million total in the same time frame — it still dropped a hefty 54.6 percent from its astounding $49.5 million opening weekend. At that rate, it'll be tough (though not impossible) for the film to ultimately best Taken's $145 million domestic gross.
I had the opportunity to see the film last Friday, and though not as good a film as the first, it's still a fine film and given what's currently running at the box office, I'd say it deserves first place. I have a feeling with Argo being out that many will disagree with me, and perhaps I will change my mind once I see Argo, but it just doesn't look like my kind of film.