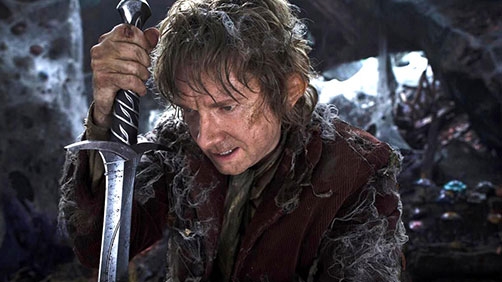 Entertainment Weekly
The Hobbit: An Unexpected Journey returned to the top of the box office on Friday, crossing the $200 million mark in the process. The $250 million Warner Bros. release grossed an estimated $10.7 million on Friday, putting it on pace for a $31 million weekend, which would bring its total to about $221 million and lift its worldwide cume past $600 million.

In second place, Django Unchained continued its terrific opening week, bringing in another $9.7 million. By weekend's end, the R-rated Western will have earned about $27 million more, giving it a six-day total of $60 million. Based on these results, it seems likely that Django will replace Inglorious Basterds, which earned $120.5 million, as Quentin Tarantino's highest grossing movie ever.

After three days on top, Les Miserables fell to third place on Friday with $9.4 million. Due to upfront excitement from passionate fans, Universal's musical drama, which boasted an "A" CinemaScore grade, had already earned about $40 million heading into the weekend, and a likely $28 million frame will bring its total to a hugely impressive $68 million since its release on Christmas day.
Not surprising that The Hobbit is doing well. I am a little disapointed that Les Miserables is not ahead of Django. Maybe my opinion will change after I've seen Django, but I doubt it.