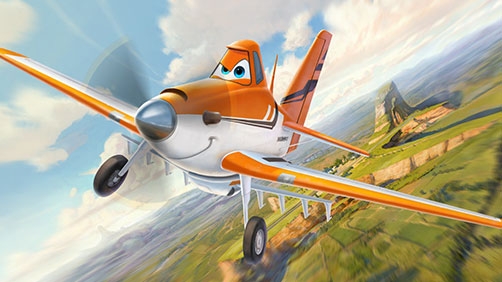 The Playlist - Indiewire.com
Well this is somewhat surprising: "Planes," the direct-to-video spin-off of Disney/Pixar's "Cars" films, is now getting a wide theatrical release next summer. It will hit theaters on August 9th, alongside Neill Blomkamp's Matt Damon-led sci-fi extravaganza "Elysium" and "We're the Millers," a comedy starring Jason Sudeikis andJennifer Aniston that is being directed by "Dodgeball" helmer Rawson Marshall Thurber. "Planes" was originally supposed to debut on home video in the fall (a European theatrical release was always planned). The movie is either really, really good or must be tracking really, really well with the guys in Disney Consumer Products. Either way, it's coming.

"Planes" has a weird relationship with the vaulted Pixar series from which it originates. On one hand, there's the short film "Air Mater," which appeared on the "Cars 2" Blu-ray and set up the world of "Planes" explicitly (at the end of the short, tow truck Mater turns to the camera and says something like "They should really make a whole movie about these planes"). But Pixar had nothing to do with the production of "Planes," and the word "Pixar" has never appeared on any of the promotional materials for the film (instead, it comes from "Above the World of 'Cars' "). John Lasseter, the director of the two "Cars" movies and the chief creative force behind both Pixar and Walt Disney Feature Animation, produced "Planes" and has been its chief spokesperson.

Instead, the animation duties were handled by Disney Toon Studios, formerly the Australian animation studio for Disney, who provided the beautiful hand-drawn animation for its afternoon syndicate programming block (for things like "DuckTales" and "Goof Troop"), direct-to-video sequels like "Pocahontas II: Journey to a New World," and additional animation for Walt Disney Feature Animation features (things like "Home on the Range").
Normally I would say this is all very, very bad news, but Wreck-it Ralph was so good that I think I'm willing to give this a chance. I think I've decided that the ingredient that makes a film like this good is John Lasseter.