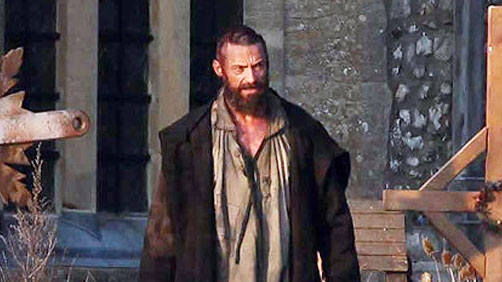 HitFix
Les Misérables is bound to take the box office by storm, but it's a musical. Are musicals allowed to do that? Under the right circumstances, such as in Tom Hooper's film, they stand the chance to. I'm really looking forward to Hugh Jackman's performance as Jean Valjean. Hugh describes the working relationship with Tom Hooper and more in this interview.
"He's so bold. He just takes so many risks," Jackman says. "You don't win the Oscar and take on a movie musical. Movie musicals are the riskiest things in the world. Are you kidding me? So, singing live. Making it fully sung through. The way he shot it. He did so many things no one had ever done before. And he really needs to get the Kudos for that."

One of the more interesting and under reported aspects of the picture was the intense training Jackman went through for the role. Sure, the entire cast had to strengthen their voices to sing live on set all day, but Jackman went through a physical transformation to try and accurately depict Valjean's condition as he leaves prison at the beginning of the film.

"Definitely as hard as any 'Wolverine' movie I've done," Jackman admits. "Getting skinny is one thing, but he has to maintain his strength. I was in the gym for about three hours a day. For the first day of shooting I learned a little trick from my trainer there of not drinking any water. In a way, it sinks your cheeks and your eyes, because it was important for the story that he be unrecognizable. So, that was the goal. We went for it man." Read more at http://www.hitfix.com/awards-campaign/hugh-jackman-says-training-for-les-miserables-was-as-hard-as-any-wolverine-film#Ts7sBpaQR8EsyQCw.99
Jean Valjean is meant to be an unexpectedly strong man. It's impressive the dedication and hard work actors like Hugh poor into such characters. I doubt that Liam Neeson did with the role in 1998's film adaptation of the novel. I'll take the "Wolverine" version of Valjean any day.