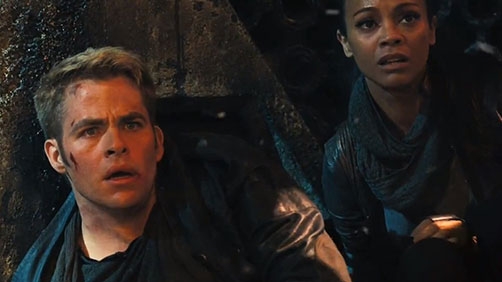 TrekMovie.com
Here is the new synopsis from Paramount…

SYNOPSIS:

In Summer 2013, director J.J. Abrams will deliver an explosive action thriller that takes Star Trek Into Darkness.

In the wake of a shocking act of terror from within their own organization, the crew of The Enterprise is called back home to Earth. In defiance of regulations and with a personal score to settle, Captain Kirk leads his crew on a manhunt to capture an unstoppable force of destruction and bring those responsible to justice.

As our heroes are propelled into an epic chess game of life and death, love will be challenged, friendships will be torn apart, and sacrifices must be made for the only family Kirk has left: his crew.
Click on through for some analysis of what's different from the first synopsis and what that possibly means.
Personally, it's a little bothersome that they're doing the whole "In defiance of regulations" thing yet again. We've had to do that with every Starfleet captain in every generation in every timeline and it's getting really old. Find something new already.