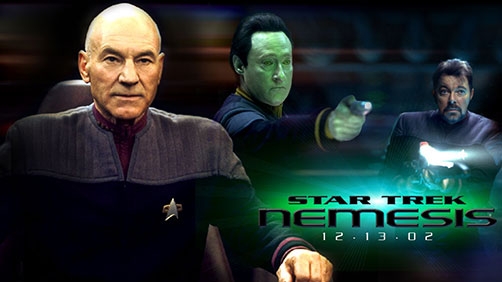 TrekMovie.com
10 years ago, Star Trek: Nemesis premiered with great expectations. It was being directed by veteran editor Stuart Baird, responsible for such films as Superman: The Movie, and it was written by arguably one of the most in-demand screenwriters of the day, John Logan, who was just coming off an Oscar win for Gladiator. Logan volunteered to write for Star Trek because he was such a big Next Generation fan. Nemesis featured a promising story by Rick Berman, Brent Spiner, and Logan that would reveal more about the history of the Romulan Star Empire. The entire main TNG crew of actors had re-assembled, along cameos from Whoopi Goldberg and Wil Wheaton, and audiences were being told this was the "final journey" of the Next Gen crew. Jerry Goldsmith (another Oscar-winner) was also back, along with veteran makeup artist Michael Westmore. Everything was promising a big Star Trek film with success at the box office.
...
In the end the film grossed $67 million off a reported budget of $60 million. After factoring in the cut for distributors and cost of marketing, this would be the first Star Trek film to take a loss at the box office. While Nemesis may have gone into the black with home media, it was dubbed a 'bomb.'
...
Yet, I liked Nemesis then, and I like it now. Data's relationship with Picard is one of loyalty and friendship, seen excellently in the film. In fact, the camaraderie between the characters is undeniably good in Nemesis, from the wedding sequence to Data's funeral. Picard's solution of ramming the Enterprise into the Scimitar is fun and surprising, and there are plenty of Trek easter eggs, like Admiral Kathryn Janeway's appearance or the name of a ship being the U.S.S. Archer, provided by Logan's script. It was great to learn more about the Romulans and their history, something the unfilmed and edited moments from the script go into even more detail about. The film does all this with some of the best dialog of the franchise, showing a wit and literacy missing since the Nicholas Meyer scripts. Of course, Goldsmith scores again with his score.
Right on. Nemesis is one of the better films in my book actually. I don't quite understand what happened. Go on to the article and read some more analysis as to what might have happened, some of the box office competition it had, it's poor promotion, and more.