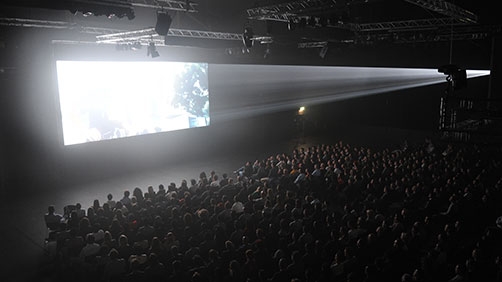 Welcome to a new beta feature of MovieByte.com, What to See. I say this feature is in beta, not because I'm doing anything special in the CMS with the publishing of this feature, but because I don't yet know how hard this will be to keep up with each week.
But I thought it would be fun to list a few of the fun films playing in theaters this weekend, and offer a line or two of opinion if we've seen the film, or our thoughts on what the film might be like if we haven't yet seen it.
New Films
Of course this is the big one this week. My misgivings aside, I am going to see it this afternoon, non-HFR with friends. Then tomorrow I'll see it in IMAX 3D HFR. If you see it in IMAX at a participating theater, you will also be getting the first nine minute debute of Star Trek Into Darkness.
This film looks terrible.
Still In Theaters
I haven't seen it, but Joseph didn't think it was all that great. We talked about it on our most recent episode of The MovieByte Podcast. And Joseph is writing his review as I write this, and it will be posted on the site later today.
Not as bad as you might think. It's worth seeing in my opinion. But many of you will think otherwise. Here's my reivew.
If you haven't seen this yet, what's wrong with you? Get out there and see it RIGHT NOW. It's a great film. Joseph's review.
Worth watching, just be aware of the pretty picture painting of Lincoln and the historical revisionism. Still, a really well made film and worth seeing. Joseph's review.
Worth seeing, not as good as the hype, but the best of the Daniel Craig Bond films. My review.
I wouldn't bother seeing this one. It's sort of woth seeing, but not in theaters. Wait for the home video release. Review.
If you can find it in a theater near you, get out and see it. It's not destined to be a classic, or "best movie of all time" or anything like that, but it's worth seeing. Our review is on the schedule to be written by Joseph very soon.
Still playing in a few theaters. If you haven't seen it yet, WHAT'S WRONG WITH YOU? Get out there and see it! Review.
This loosk pretty terrible to me, but it's getting great reviews — audiences and critics alike are raving — so I guess I'll have to make time to see it soon so I can have an informed opinion.
Killing Them Softly
DO NOT GO SEE THIS TERRIBLE, HORRIBLE FILM. No really. It's REALLY BAD. My scathing review.
---
If you've seen any of these films, let us know what you think in the comments.