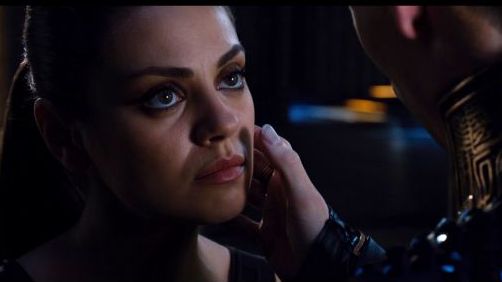 Clark Douglas — 365 Movie Guy
The term "space opera" gets thrown around every time a big-budget fantasy set in space rolls into theatres, but Jupiter Ascending actually earns the title: whatever you may think of it, there's no denying that it's pretty damn operatic. There's a pure-hearted earnestness here which might have felt run-of-the-mill thirty years ago but feels fairly bracing in 2015. It's a movie filled with flying dinosaur soldiers, shape-shifting aliens, genetic splicing, bonkers performances, grandiose concepts, political statements, royalphile bees, anti-gravity roller blades, Brazil references and a metric ton of world-building lore. Is it good? Not in any conventional sense, no. Is it an entertaining and memorable theatrical experience? Oh yes.
I may not be able to write my review of the film this week (though we will be recording a Podcast tonight where I'll share some thoughts) so I thought I would link to Clark's review, which which I largely agree. Overall I think he's a bit harder on the film than I am. I loved this film a lot despite its flaws.