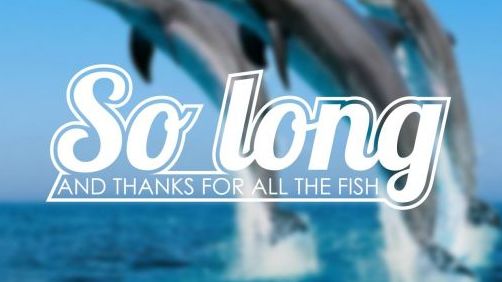 Short version for those of you who won't read all this: The MovieByte Podcast will continue, but I'm taking a break from writing.
The written portion of MovieByte is going on hiatus. I really hate to do it. I love writing reviews, and finding news to make witty and/or sarcastic comments about, and I love doing MovieByte in general. But in all candor and honesty (which I always strive for) I have not been able to get any traction with the site. Readership is lower than it has ever been. In fact, I doubt many will read this and even fewer will care. The most visitors the site had last week was 46. In addition, I'm not getting much sleep because I work a regular job, and I have side freelance projects to try to make ends meet. Then when all that is done, I write stuff for MovieByte. It is not sustainable and my health has been the victim of this lifestyle to some extent.
I have always been told, and I have believed my whole life that: if you build it they will come. I built it, and I showed up every day and wrote for over two years. It turns out that they didn't come — at least not so far.
Don't take this post as a bitter farewell. For one thing, it's not a farewell. I suspect I and the (written portion of the) site will be back at some point in the future. I'll try to come up with new ways to make it interesting and better ways to position the site and get more of you to read it. I had always wanted to bring on a small team of writers and Podcasters — it's just impossible to do when I can't even make it work for just me.
And The MovieByte Podcast will continue. When the idea of MovieByte came about, the podcast was the only thing we were talking about. It's what I love doing the most and it consistently gets about 200 downloads per episodes (sometimes more). It's not much, really, but it's enough to keep me making the podcast because I love doing that the most. I have dreams and ambitions for the podcast, and I hope to make others. I also have at least one other in mind that I hope will get more listeners for the theologically minded.
I've learned a lot from my ventures with MovieByte so far, and I hope the journey will continue.
Subscribe to the podcast to keep up with me now, and keep an eye on me on Twitter to see what I get up to next. And of course, you can always subscribe to the site RSS feed or follow MovieByte on Twitter to see when I revive the writing — if following me personally on Twitter is a bit much for you or you think all my political tweets suck.
To the few of you who stuck around and read my stuff, thank you so much and I hope we can continue a relationship into the future!