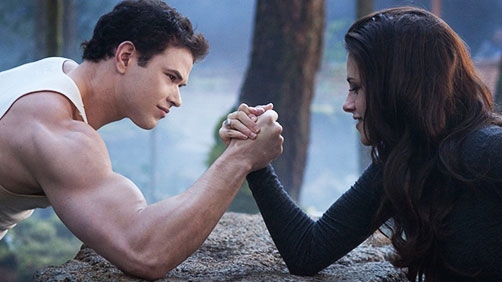 Entertainment Weekly
Say what you will about the Twilight series, but you can't fault it for being inconsistent.

The popular vampire franchise's final installment, The Twilight Saga: Breaking Dawn – Part 2, scored the eighth biggest opening weekend of all time with a $141.3 million debut. If Summit's estimates hold up, that's just a touch ahead of Breaking Dawn – Part 1, which started with $138.1 million last year, and just a touch behind New Moon, which opened with $142.8 million in 2009.

Impressively, Breaking Dawn – Part 2 also earned $199.6 million in its international debut this weekend, giving it an early global total of $340.9 million. When all is said and done, the film will likely finish just above $700 million. After all, the last three Twilight films — Breaking Dawn – Part 1, Eclipse, and New Moon — earned $712.2 million, $709.8 million, and $698.5 million, respectively. Like I said, it's a remarkably consistent franchise.
This is why the Twilight films kept getting made. I run into more people who say they hate it than not, but something is inconsistent here. Somebody is going to see these movies because they are bringing in the cash. At least I am consistent and am willing to admit that I go see the films and enjoy them for what they are. Apparently, some of you people go see them in secret or something because that's a lot of MULA. The amount of money being made makes me think they are going to find some way to keep bringing Twilight to the big screen. There have been stirrings, distant rumors and rumblings of bringing more Twilight to the screen already, and given that it's a money maker, I don't doubt it.