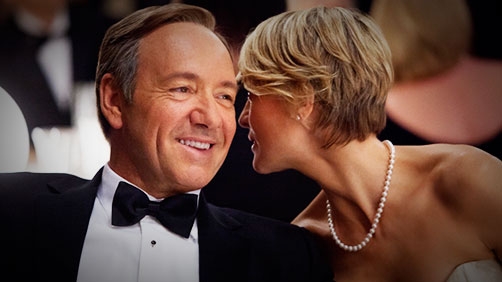 I find it interesting to see the phenomenon of original content airing on Hulu and Netflix. Frankly none of the shows up until now to do this have looked remotely interesting to me, but I do applaud the idea. This seems to be the only way forward since the networks and existing infrastructure are just not forward thinking enough to realize where they need to be going — what the future of television will ultimately look like. They cling to existing, dying business models as one might cling to the rails of a sinking ship. One of my biggest frustrations as a cable cutter is that I can't watch TV shows on Hulu until one day after they air. Essentially, I'm considered a second class citizen for refusing to build my life around the networks' air schedule.
For these reasons I am really interested to see where original series' go on Netflix and Hulu. While neither of these services are perfect, they are at least moving in the right direction — instantly, randomly accessible content from the word go.
So with that we come to this upcoming Netflix original series, House of Cards. I don't know that this is something I would watch under normal circumstances (it's not really my type of show I don't think) but I may watch it here and there to show support of this direction. And honestly, though not necessarily my type of show, it doesn't look half bad.
Here's the synopsis:
A ruthless Congressman, Francis Underwood, and his ambitious wife Claire, will stop at nothing to conquer everything. This wicked political drama slithers through the back halls of greed, sex, love and corruption in modern D.C.
The cast includes, Kevin Spacey, Robin Wright, Kate Mara, Corey Stoll, Michael Kelly, Sakina Jaffrey, Kristen Connolly, and Constance Zimmer. I don't really know about the rest of the cast, but Spacey is a great actor.
Now, I can't embed the trailer here as far as I can discover — remember, I said that Netflix is not perfect and not publicizing this trailer far and wide and making it available everywhere advertising this original series seems a serious blunder to me — I do recommend that you head on over and check it out. You will need to be signed in to Netflix it appears (again, this is a very serious blunder on Netlifx's part in my opinion).
Also, don't forget we are giving away a one year subscription to Netflix along with an HD TV so you would be all set to watch this new series.