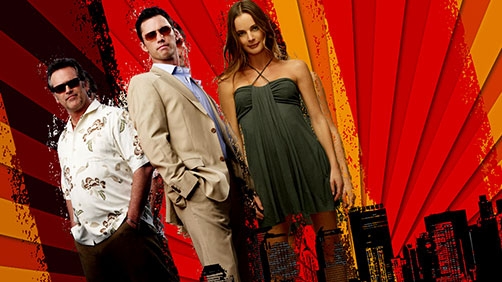 TV Line
The USA Network series unspools the final eight episodes of Season 6 starting this Thursday at 9/8c, with a double-header. When last we tuned in, Michael — stranded in Panama with Sam, Fi, Jesse and sketchy sniper Tyler Gray (played by Kenny Johnson) — had just gleaned that his CIA mentor, Tom Card (John C. McGinley), had set him up to die, and nearly succeeded in that endeavor.

Coming out of that, "You'll see a more hell-bent Michael," Donovan previews. "The relationship that Michael has with Gray and Card is going to turn Michael down a path that leads even Sam to question Michael's integrity. And I think that's what the fans are going to really be interested in: How dark will Michael go?"
Interesting, given that Michael has already gone to some pretty dark places.
"In the [Season 6] finale, which I think the audience is going to be shocked by, Michael makes a decision that affects not only his friends but mostly Fiona," Donovan teases. "I think the audience is going to be excited to see where Michael will go once he has made probably one of the worst decisions he's ever made." On a related note — or not — the actor also promises "a huge betrayal."

And the repercussions of all the above won't only be felt by his official partners in espionage.
Hmm, well, I've always been happy with Burn Notice so I'll have a little faith in the writers and producers, but I don't know if I like the sounds of that.
TV Line also reports that shortly after Donovan let these details drop, USA Network announced the renewal of Burn Notice for a 13 episode season 7.
Barely 24 hours after Jeffrey Donovan teased the dickens out of the twists on tap for any possible seventh season of Burn Notice, USA Network went ahead and officially renewed the series.

Season 7 of the spy drama will be comprised of just 13 episodes (versus the 18-episode runs for Seasons 4 through 6), yet allow the series to hit the 100-episode mark — making it only the third USA series to do so.
The fact that they are only picking it up for 13 episodes for season 7 instead of the standard (for Burn Notice) 18 episodes makes me think Season 7 will be the last. Maybe that's good though, maybe it will have the chance to come in for a proper landing.