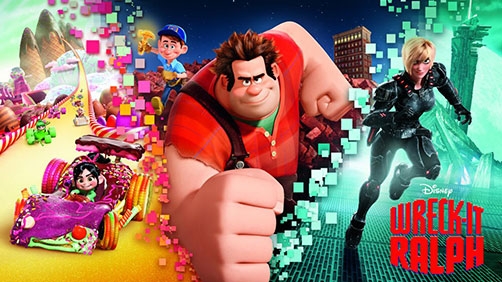 Entertainment Weekly
Doom may have flopped, and Scott Pilgrim vs. the World may have been all buzz and no buck, but Disney's Wreck-It Ralph proved that there is a place for videogame-themed movies at the box office this weekend.

The $165 million animated film topped the chart with $49.1 million out of 3,752 theaters — the strongest debut ever for a Walt Disney Animation production (i.e. not including Pixar titles). Disney's Tangled opened with a whopping $48.8 million over the more lucrative Thanksgiving weekend in 2010, so Wreck-It Ralph's slightly larger bow (and its hefty $13,086 per theater average) should be viewed as a major victory for the Mouse House.
Well deserved.
The Robert Zemeckis-directed drama Flight soared in second place with $25.0 million from just 1,884 theaters, giving the $31 million Paramount film the strongest per theater average in the Top 20, with $13,275.
Meh, but probably does deserve to be No. 2. It wasn't horrible.
Speaking of Argo, the Ben Affleck-helmed thriller finished in third place in its fourth weekend, dropping only 15 percent to $10.2 million (anytime a film is still in double digits after four frames, you know it's clicking with crowds), which lifts its total to $75.9 million.
Well deserved.
The biggest story at the box office this weekend, however, doesn't have anything to do with the domestic chart. Skyfall, the 23rd James Bond picture, grossed an incredible $156 million this weekend internationally, giving it a remarkable 10-day total of $287 million — by far the best ever initial numbers for the Bond franchise. For perspective, Quantum of Solace, which finished with $417 million internationally, didn't achieve that total until its fourth week of release.
Can't wait to see it. Really looking forward to it this weekend.