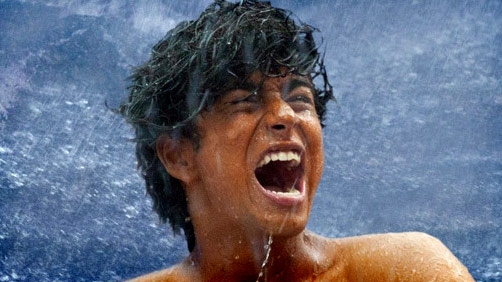 A film adaptation of a supposedly "unfilmable" novel, Ang Lee's Life of Pi achieves the supposed impossible — it's an astonishing technical work that's also emotionally inciting.
Life of Pi is a 2012 American adventure drama film based on Yann Martel's 2001 novel of the same name. Directed by Ang Lee, the film is based on an adapted screenplay by David Magee, and stars Irrfan Khan, Gérard Depardieu, Tabu, Suraj Sharma, and Adil Hussain. Visual effects are by Rhythm & Hues Studios.
Critics and the public are loving Pi, and this comes at no surprise. The characterization of the zoo animals by the special effects team is some of the best I've ever seen. I honestly had no clue the animals were animated when they were. But the animals are not all of Pi's charm — just one of its most impressive qualities among many to win it some filmmaking awards.
However, there is an underlying flaw in the narrative that dampens my enthusiasm for this brilliant spectacle. Ang Lee gives his all to persuade you that pluralism, a religious belief, is both spiritually and scientifically tested and found to be true by Pi's tale. I personally found it so desperately shallow when it came to spiritual matters that it takes away from the significance of Pi's remarkable adventure at sea with the Bengal tiger. The religious concepts only work with a vivid imagination, while the film's visuals work flawlessly without one.
Storyline
Pi Patel is an unassuming Indian man that lives in Canada. At the start of the film, he is visited by a novelist (played by Rafe Spall) that wants to know two things: 1) How can Pi prove that God exists? and 2) How can Pi prove it with his remarkable life story of crossing the ocean all alone on a lifeboat with a Bengal tiger?
Pi starts telling his story from his earlier childhood. Before the writer hears the good part with the tiger in it, he needs to know a few things.
Pi was born and raised in what they call French India.
His mother was a devout Hindu, but his father believed in "science."
Pi was taught by his father to fear Richard Parker, the tiger, at an early age.
One day, Pi's brother dared him to drink holy water in a Catholic church. One thing led to another, and Pi wanted to be baptized.
The family relocated once in Pi's childhood, and when they did, Pi became interested in the Muslim faith. Shortly after, Pi was praying prostrate on the floor, like a Muslim would, to Jesus Christ — the son of Krishna.
There are many other details that unfold the dramatic Patel family story before tragedy strikes at the beginning of act two. On a dark and stormy night at sea, the Patel family's boat sinks, leaving Pi Patel alone on a lifeboat with an orangutan, hyena, zebra, and tiger. What becomes of the rest of Pi's family is unknown until the end of the film (I won't spoil it for you).
Pi is on that lifeboat left to his wits and a meager collection of survival supplies for 227 days(!) before he will make it back to mainland. The large part of act two is his adventure fighting off dangerous beasts, doing anything to avoid starvation, training the tiger, and confronting his god about the terrible plight he finds himself in.
Artistic Appeal at an All-time High
Filmmaking is an art. Contrary to popular opinion, art is somewhat scientific, as Pi exceptionally demonstrates with its beautiful visuals. Everything from the locales and sets to the visual and special effects work harmoniously to tell Pi with exceptional taste.
I love the performances of the cast as much as those of the animated life-like zoo animals. The reason I mention them together is they are heavily dependent on each other's success. Pi, played by Suraj Sharma (when young) and Irrfan Khan (when older) is masterful. Not for a second was there any cheesiness or pretentiousness that steal from the heart of the film.
Likewise, it would have been easy for the animals to strike a cord of my disbelief in the narrative. But let me tell you what: my 20/20 vision couldn't tell the difference between animals that were real and those that were animated. The tiger alone would have made the film impressive, but there are also countless sea creatures, mongooses, a hyena, a zebra, and many other animals that were made by the designers of Rhythm & Hues Studios. They have earned every award of special effects imaginable for 2012.
All of the visual storytelling is held together by an excellent screenplay and premise. The soundtrack is magestic. The pacing and cinematography are a little over the top, but I believe it would be too nitpicky to knock them in the slightest.
Subtextual Problems
God is an unseen character, of sorts, throughout the life of Pi. Well, I thought he was at first, but as Pi told his story I saw what was really going on. Pi's imaginary friend, named God (who also goes by Jesus and Krishna), is the unseen character that stirs up the emotionalism seen in the audience's reaction to Pi.
Pi believes in a god that is essentially the same no matter the religion you follow. This is what is called pluralism. It's ultimately one form of humanism. The film is very emotionally powerful to sell you on its message: God is real and all the religions worship the same deity(s). It's all a rather disheartening confusing pile of vain philosophy.
But beneath all of this, the film is about Hinduism; Eat, Pray, Love meets Castaway. It is difficult to see past the religious themes of the film to appreciate its impressive accomplishments for cinema. The message of "God is real, and manifests himself through every religion" runs rampant in Life of Pi. Not only is it very unscholarly, it just doesn't add up. The film attempts to wed Catholicism, Islam, Hinduism, and more. It falls flat in its attempt with a brutal amount of sentimentality to hide its absurdity.
It's amazing how quickly a great movie concept with a glorious execution can be spoiled by its lousy subtext. Watching Pi, I felt that sense of awe-inspired satisfaction one has watching a gratifying film along with a regret for its irrational mysticism message that steals from its significance.
This lousy subtext is what the film delves deeply into, but one cannot dive deeply into a pool that's ankle deep. Well, you shouldn't, anyway (it might cause a fatal injury). Pi is a very shallow character that believes in something as unrealistic as pink elephants.
Bottom Line
Life of Pi is an excellent film to see for its gorgeous special effects — much like Avatar in that regard. If you do want to see it, try to in IMAX, and don't shy away from a 3D showing. This movie almost makes 3D seem worthwhile.
But if you cannot stomach religious nonsense, this movie will disappoint in the end.
---
Other Details
Rating: IMDb 8.4, RT 87/89
MPAA Rating: PG for emotional thematic content throughout, and some scary action sequences and peril.
Genre(s): Adventure, Drama
Run Time: 127 minutes
Theatrical Release Date: 11/21/2012
Distributor(s): Fox 2000 Pictures
Director(s): Ang Lee
Stars: Suraj Sharma , Irfan Khan , Tabu , Adil Hussain , Gérard Depardieu
Themes: stranded, disasters at sea
Tone: atmospheric, earnest, reflective, hallucinatory, meditative, stylized, dreamlike, lyrical