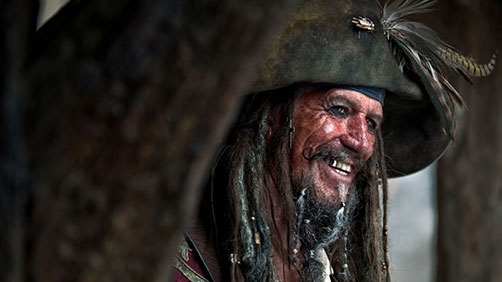 Movie Line
The $3.5 billion Pirates of the Caribbean franchise may see another mega-star reprise in its fifth installment, and it may not just be Johnny Depp. Rolling Stones guitarist Keith Richards may return to the franchise after an invitation from Depp.

Richards has bombarded the franchise in all four installments with his persona alone. Depp made no secret that the superstar musician inspired his flamboyant portrayal of Jack Sparrow since its launch back in 2003 with Pirates of the Caribbean: The Curse of the Black Pearl.
With two great, one decent, and one terrible Pirates film out in the open, I'll continue to hold out hope that the fourth installment was just a bit of an aberration and the fifth might be better. I can also appreciate the thought that they may not want to go out on such a low note. On the other hand, if Pirates 5 is a success there will likely be a Pirates 6, which will likely be bad, which will mean the series won't go out on a hight note. It's a catch-22 and I'm thinking that maybe it would just be better to lay the Pirates franchise to rest. Alas, that just isn't going to happen.