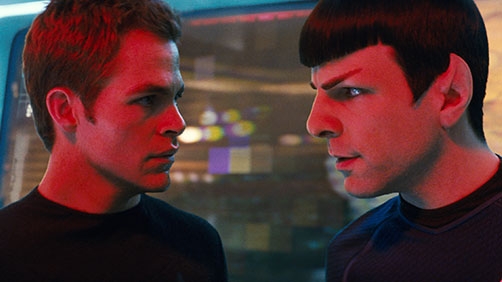 TrekMovie.com
In Summer 2013, pioneering director J.J. Abrams will deliver an explosive action thriller that takes Star Trek Into Darkness.

When the crew of the Enterprise is called back home, they find an unstoppable force of terror from within their own organization has detonated the fleet and everything it stands for, leaving our world in a state of crisis.

With a personal score to settle, Captain Kirk leads a manhunt to a war-zone world to capture a one man weapon of mass destruction.

As our heroes are propelled into an epic chess game of life and death, love will be challenged, friendships will be torn apart, and sacrifices must be made for the only family Kirk has left: his crew.
My biggest question here is what on earth does the phrase "detonated the fleet" mean? Does this mean all the other ships in the fleet got blown up? Or is it more metaphorical? If all the ships in the fleet get blown up, I'm going to say that would be just lame so I gotta think they are being metaphorical or something.
On the other hand, I think we can surmise that the fleet is in rough shape, depending on how long it has been since the last film, since Nero destroyed a whole bunch of ships. I'm sure they were/are actively rebuilding the fleet and still may be low on ships.