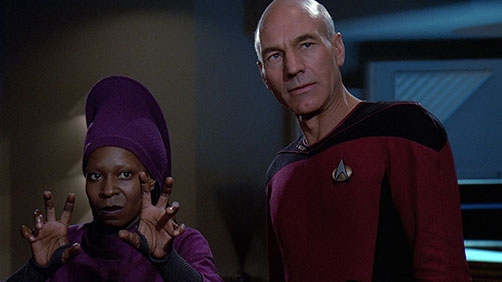 TrekMovie.com
A few days ago we shared an exclusive preview image from Star Trek: The Next Generation Season 2 on Blu-ray. CBS has now released the full set of promo images and we have them all below (with before and after HD remastering). Check them all out.
I'm in geek heaven! I won't put them all here lest I get in trouble, but I'll just post one comparison shot so you get the idea. Click through for the rest.
Click on images to see in full size.
Before (Standard Definition) After (High Definition)
In case you missed it, the theater event for Star Trek: The Next Generation, Season 2, in HD is coming up on the 29th. Find out more about it in my artlcle. There's a theater in Nashville showing it and I intend to be there!