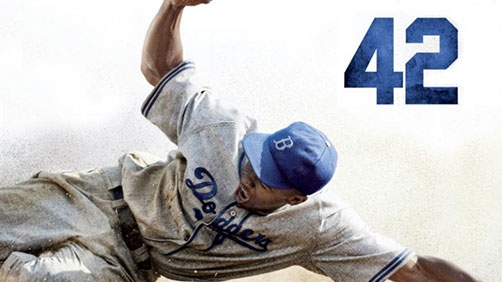 So. how did things shake out this past week? Lets have a look.
#1: 42 - $27.2 Million
42 may be "the answer to life, the universe, and everything," but it is also the answer to this week's Box Office success and top spot. The film opened to the tune of $27.2 Million over the weekend, which isn't exactly mind blowing but it's not terrible. This is in contrast to another baseball film, Moneyball in 2011 staring Brad Pitt. That film opened to $19.5 Million on its opening 3 day weekend, and went on to earn $75.6 Million on a budget of $50 Million). 42 opening of $27 Million on a budget of $40 Million is sure to be an encouraging sign.
Quite frankly 42 is an awesome film and quite deserves to take the top spot.
#2: Scary Movie V - $15.1 Million
Is anyone surprised that this film only made $15 Million? What a terrible idea. While Scary Movie IV opened to $40.2 Million, I think we can have an early call on flop for this bad idea of a 5th installment. Of course, I don't know how any of these five films made any money, but you know, whatever.
#3: The Croods -$13.2 Million
In its fourth week out in theaters. I think we can call this a massive win for the animated title. Factoring in foreign totals, the worldwide gross is $385.1 Million. I'm going to have to make time to see this so I can know what all the fuss is about. Folks sure seem to like it.
#4: G.I. Joe: Retaliation -$10.8 Million
So this terrible film is doing okay, which is a shame. It now has a worldwide total of $270.7 Million. Not destined to set any records, but enough to encourage the studios to churn out more garbage like this. Pathetic.
#5: Evil Dead - $9.5 Million
Why is this even on the charts? It's a travesty that such a horrendous looking film can even rank. Not only that. but it has so far grossed worldwide $51.5 Million. Ugh.
#6: Jurassic Park 3D - $8.8 Million
Crazy. This re-release is still killing it. It has now earned $31.9 Million.
#7: Olympus Has Fallen - $7.2 Million
This severely under-rated film has finally broken even. Well even just slightly better than breaking even. I'm glad it has finally broken even, but it's a shame it's not doing better since it's a pretty decent film.
#8: Oz The Great and Powerful - $4.9 Million
Definitely a win. Total worldwide gross is not $471 Million.
---
If you want loge further into the breakdown head on over to Box Office Mojo and check it out.
Because I'm a glutton for punishment and I just didn't take enough of a beating over mentioning this film last week, I will just mention The Host even though it's further down on the list because I like the film and reviewed it positively. The film only made $2.3 Million this weekend, brining the worldwide total up to $45 Million. That just barely breaks over the budget of $40 Million, and again, it's a shame because this film well deserves to be up above G.I. Joe: Retaliation any day of the week! Ah well, not everyone can have good taste unfortunately.