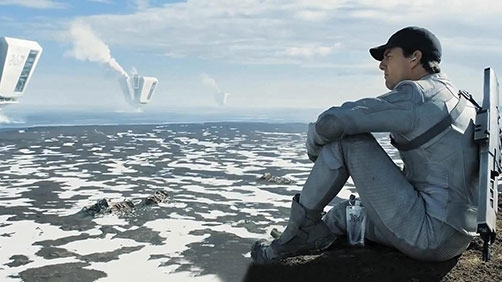 Another weekend has passed, films have been watched, box office reports are in, totals have been tallied. Let's see what story they tell.
#1 Oblivion
$38.1 Million Domestic / $112 Million Foreign = $150.1 Million Worldwide Total
Winning the top spot on it's first weekend outing, Oblivion slides in to home plate with a weekend domestic gross of $38.1 Million. That may be decent, but it's not knocking your socks off for a $120 Million budget, however foreign charts or through the roof pushing the worldwide total to $150.1 Million. That already pushes the film above it's production budget, and that's a major win. This is apparently one of Cruise's better openings in North America though. It should also be noted that while one of Cruise's other films, Mission Impossible: Ghost Protocol was a little anemic when it opened to the tune of $29.6 Million, it went on to be a box office crusher to the tune of almost $700 Million worldwide. Oblivion is already doing better than that. And frankly, it looks like Oblivion has one more uncontested weekend as I don't see anything opening this coming weekend that might displace the film. Obviously, in two weeks, Iron Man 3 will certainly displace it, but until then I expect this film to be on top for another weekend.
It was a really good solid film and I liked it a lot. Be sure to tune in to The MovieByte Podcast this Wednesday at 6:00 PM Central to hear Joe's and my thoughts.
---
#2 42
$18 Million = $54 Million Total
Another great film has taken the second spot on the chart for it's second week out. It has only earned $18 Million this weekend, but that's just not bad for a dramatic film lacking in action. Most general movie goers want more whiz-bang and don't care as much about drama and story as I do. Still, the film is a winner with a $54 Million gross so far on a $40 Million budget. It has not where to go but up from here. I'm hoping it will have one more good solid weekend. It's a good alternative for the anti-sci-fi anti-oblivion anti-action movie goers. And it's a great film.
---
#3 The Croods
$9.5 Million Domestic = $427.2 Million Worldwide Total
Obviously a huge massive win. I still haven't seen it, it's hard to find time, but I want to at this point.
---
#4 Scary Movie 5
$6.2 Million Domestic = $26.6 MIllion Worldwide Total
I weep for the human race.
---
#5 G.I. Joe: Retaliation
$5.8 Million Domestic = $322.9 Million Worldwide Total
While I didn't like this film all that much, at least I understand why it's doing so well and at least it does not leave me weeping for mankind.
---
#6 The Place Beyond the Pines
$4.7 Million = $11.4 Million Total
I know literally nothing about this film. Should I?
---
#7 Olympus Has Fallen
$4.5 Million = $94.1 Million Worldwide Total
Not terrible for week number five given what's in the top three spots. I liked the film and wished it had done a little better, but we're good and over the production budget so that's good.
---
#8 Evil Dead (2013)
$4.1 Million = $61.7 Million Worldwide Total
I'm weeping again.
---
If you want to dive further into the breakdown, head on over to Box Office Mojo.