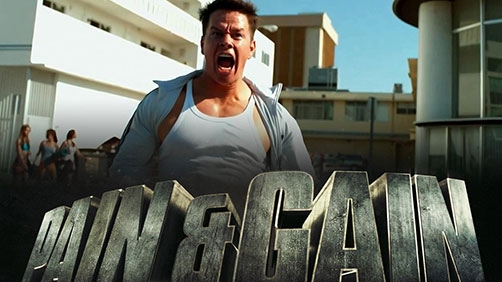 The only new film this past weekend worth mentioning was Pain and Gain and I was/am so not interested in that film. Ugh.
But, let's see how things went down.
#1 - Pain and Gain
$20 Million
The budget for this bad boy from Michael Bay was $26 Million. So it's very close to making it's money back. BUT, Iron Man 3 opens this weekend. Will enough people opt to see Pain and Gain over Iron Man 3 that it will get up to its budget? Probably, but I'm guessing it won't go a lot over. Time will tell the story.
#2 - Oblivion
$64.7 Million Domestic Total / $134.1 Million Foreign Total = $198.8 Million World Wide Total
Frankly I'm a little disapointed that this film didn't take the top spot for a second week in a row — it was such a good film. But on a budget of $120 Million it's doing well enough for its second weekend. Unfortunately, I think that Iron Man 3 is going to kill it from here on out, which is a shame. While I too expect to like Iron Man 3 a lot, I wish that this film could have had a few more weeks to get itself up higher in the rankings.
#3 - 42
$10.7 Million Weekend Gross / $69 Million Total
I'm thrilled that this film is still ranking and doing well. It was made on a budget of $40 Million and it is easily the best new film I have see so far this year. This is the third week out for 42 and given that it's a drama and not an action film, I find it awesome that it's doing well. My faith in humanity has been somewhat restored.
#4 - The Big Wedding
$7.5 Million
What on earth is this? This is its first wekeend out, and It apparently had a budget of $35 Million so I'm guessing there is zero chance it will get near making it's budget back. And I say again, I have not heard of it so…
#5 - The Croods
$6.6 Million Weekend Gross / $163 Million Current Domestic Gross / $468.6 Million Worldwide Total
Weekend #6. Talk about your box office smash success. I must make time to see this!
#6 - G.I. Joe: Retaliation
$3.6 Million Weekend Gross / $116.3 Million Current Domestic Gross / $349 Million Worldwide Total
Well, it's not a great film, but apparently I am alone in that assesment.
#7 - Scary Movie 5
$3.4 Million Weekend Gross / $37.6 Million Worldwide Total
Why will this film just not go away?!?
#8 - Olympus Has Fallen
$2.6 Million Weekend Gross / $98.3 Million Worldwide Total
This film hasn't exactly killed it (which is too bad since it is far better than G.I. Joe), but it's made a little bit of money.