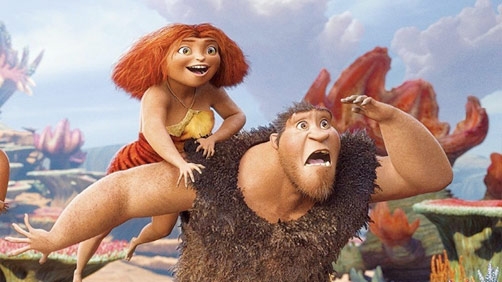 I promise you the following is no joke.
In honor of April Fool's Day, Paramount released G.I. Joe: Retaliation. The flick easily earned $41,200,000, stealing the lead from The Host, the movie many Twi-Hards went to see out of loyalty to Stephenie Meyer.
In all likelihood, Host will gain on Retaliation in ticket sales over the course of its wide release. I think G.I. Joe will fizzle out in the box office when fewer and fewer fools are left to watch it. Stephenie's followers are exceptionally loyal.
But this past weekend's surprise was the blockbuster of The Croods coming in at first in ticket sales. How is this possible? This Dreamworks animation film is well-recieved by families looking for something to watch with the kids. Croods, consistent with the name, isn't much to look at, but it excels where it counts for the little guys.
If you care to watch, here's the top three's trailers:
---
---
---
And I have to ask: did any of our readers see any of these films? What are your thoughts? I'm reviewing The Host, so I saw that one, and I plan to watch Retaliation for another review. Should I bother with The Croods?
Update: I expected Olympus Has Fallen to perform better its second weekend, but now it is clear that G.I. Joe stole its audience. Both films are interested in much of the same moviegoers. I think Olympus may have fallen too much this weekend to recover in the weekends to come, and will struggle to break even with its $70 million budget.