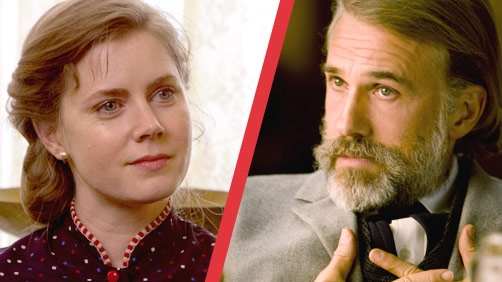 Deadline
Tim Burton is going to direct Big Eyes, starring Christoph Waltz and Amy Adams.
Waltz, who's coming off another Oscar turn in Django Unchained, and Adams, nominated for The Master, will play Margaret and Walter Keane, whose paintings of large eyed children became one of the first mass marketed art sensations in the 50s and 60s. Those prints sold in gas stations and every five and dime store across the country. While Walter was the marketing genius, he also took the bows for doing the brush work. He was a full fledged celebrity, a regular on the TV talk show circuit. His shy wife was the actual artist in the family. When they split and she tried to get her due, he painted her as being eccentric, and they ended up in court. There, a judge finally provided them with two easels and ordered them to prove it. Walter's art reputation went down on the canvas when he begged off because of what he said was pain in his arm. She whipped up one of her trademark big-eyed works.
I'm curious to see how Tim's style comes through on a 50s historical drama. Will he stylize the movie like most of the others in his filmography? Or might this be a slight departure, showing an eccentric couple in a realistic setting? Who knows.
Anyway, this film represents a turn for Reese Witherspoon and Ryan Reynolds. They were lined to star in Big Eyes while Tim was just producing the film — until now. For what it is worth, I'm more interested in watching Amy and Christoph lead. I'm not too sure about Tim directing.