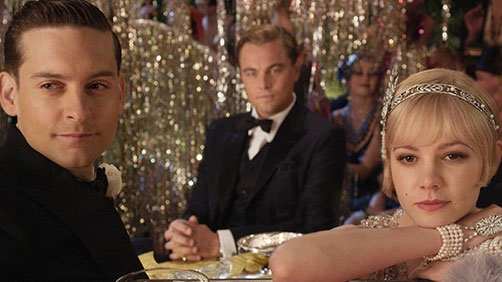 So it occurred to me when I saw this trailer that I have not posted anything about this film yet. That is because it does not look interesting to me in the slightest. But I try to cover a broad range of films and whatnot so It seems like I should get some stuff on the site about it. I know literally nothing about the novel by F. Scott Fitzgerald on which this film is based, which may be why I am completely uninterested in the film. It looks like an overly stylized, overly dramatized mess of a film. But it will certainly have appeal to some.
The film stars Leonardo DiCaprio, Tobey MaGuire, Carry Mulligan, and Joel Edgerton.
Chasing his own American Dream, Nick lands next door to a mysterious, party-giving millionaire, Jay Gatsby, and across the bay from his cousin, Daisy, and her philandering, blue-blooded husband, Tom Buchanan. It is thus that Nick is drawn into the captivating world of the super rich, their illusions, loves and deceits. As Nick bears witness, within and without the world he inhabits, he pens a tale of impossible love, incorruptible dreams and high-octane tragedy, and holds a mirror to our own modern times and struggles.