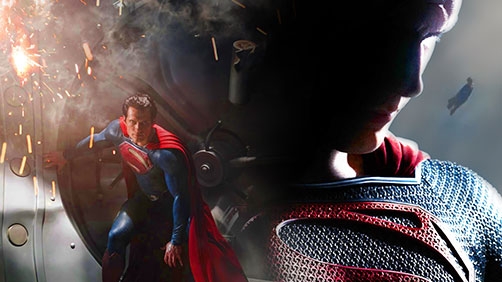 Edward Davis - The Playlist
Simply put, "Man Of Steel" looks rather epic—a mix of deep-rooted character development and incredible action that points to full-on war on Earth. Also, Henry Cavill, something of a question mark as he's never quite impressed, doesn't seem completely out of place here, thankfully. The world and context of "Man Of Steel" is unfolding, and much like Nolan's "The Dark Knight" films, it seems to be rooted in a pragmatic reality, with plausible reasons for elements of the Superman cannon to appear while less plausible lore seems to have been jettisoned completely. We thought we'd take a deeper look, so here are five key elements from the trailer. Note, some minor spoilers are ahead, but it's stuff that's already out there if you've been paying attention.
Great stuff over here on The Playlist. I encourage you to read it. Beware of spoilers. Personally, I don't have a problem reading about stuff that's put out there by the filmmakers themselves, but some might consider this to be pretty spoiler. I don't think this sort of analysis will spoil my viewing of this film one little bit. I am really looking forward to this film a lot now.