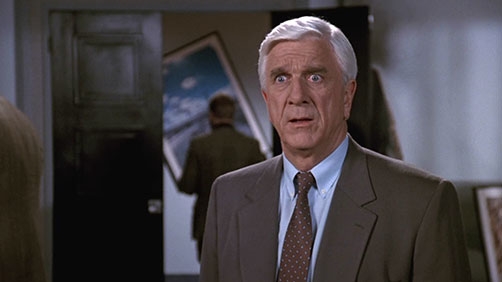 Stuart Heritage - The Guardian
So there's a chance that David Zucker doesn't really want to reboot the Naked Gun franchise. There's a chance that he looked at his new film Scary Movie 5 – with its opportunistic stunt casting and soul-draining pastiches of trailers he saw halfway through production – realised that it was a pale imitation of his best work and just decided to invoke the name of The Naked Gun to scare up a few headlines.

But invoke it he did. Talking to Hollywood.com this week, Zucker said: "You could do another Naked Gun, with a reboot. Like Star Trek … I think Paramount has an international brand in Naked Gun and I think there's something you can do."
NO! Oh my goodness no! This can ONLY end in pain and suffering of the worst kind. Mark my words, if this were to happen it would be a huge disaster. Please let this die!
Oh, also, I have to quote this:
To this day, Kiefer Sutherland's strategy for promoting his current series Touch is to bang on relentlessly about how he wants to make a 24 movie.
Yeah, pretty much.