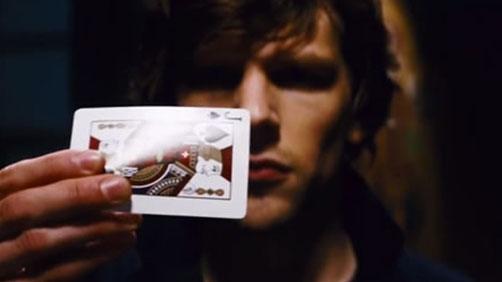 Coming this summer from director Louis Leterrier (The Incredible Hulk, Clash of the Titans) comes a film that looks fairly interesting. I'm not really sure where this is going. Is there really magic going on here, is this a completely fanciful world? It's sure looking that way from here. But I do love the look of this movie and I like this trailer as well as the previous trailer.
The film stars Jesse Eisenberg, Mark Ruffalo, Woody Harrelson, Melanie Laurent, Isla Fisher, Dave Franco, Common, Michael Kelly, Michael Caine, and Morgan Freeman, and releases on May 31.
Synopsis:
Now You See Me pits an elite FBI squad in a game of cat and mouse against "The Four Horsemen," a super-team of the world's greatest illusionists. "The Four Horsemen" pull off a series of daring heists against corrupt business leaders during their performances, showering the stolen profits on their audiences while staying one step ahead of the law.