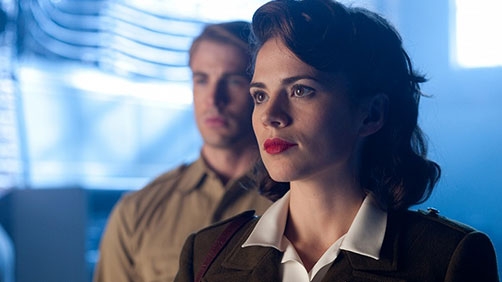 The Age
"There's been an online campaign for Peggy to be featured. People really liked her. So Marvel have made sure that as part of Comicon there will be a little kind of snapshot as to what Peggy's actually really capable of, which was finished here and which was great fun. Hopefully, it will lead to other things."

Be it a movie or television series spin-off, Atwell would love a chance to play Peggy once more and to flesh out her character.
I think we'd all like to see more of Peggy Carter. Though not the star of Captain America she was one of the shining bright lights of the story. But I don't get how a spin-off or television series makes sense for this character. Am I missing something? Do I simply lack imagination?
"I'd revisit Peggy again. She's pretty uptight. I'd like to, if I get a spin-off, definitely add a bit of humour in there. She's very British. Very uptight. Let's hope if she gets a spin-off it's modern day, so she can relax a little bit, let go of the uniform."

If not Peggy, then Atwell has her sights on another all-action heroine.

"There's also some kind of online campaign for me to do Tomb Raider Reborn, which I know has just come out as a computer game. MGM have the rights to make it into a film, which would be fantastic to do because I'd get to spend a year of my life training hard and pick up all sorts of fantastic fun skills."
Rumors have been swirling about her and a Tomb Raider reboot. Frankly, while I watched the Angelina Jolie Tomb Raider films, I don't remember much about them and certainly don't really care for the series. But I suppose I'd be willing to give it the chance to be something good.