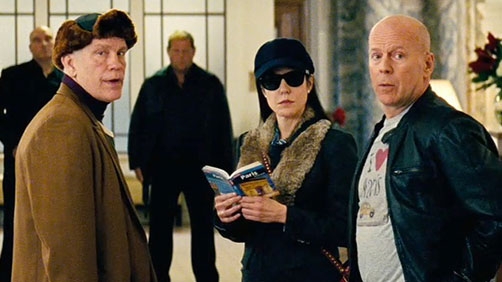 Man oh man, this looks like a lot of fun!
This trailer unravels a little more of the plot for us, but let's be honest, while the film would be nothing without a decent plot, it's really as much about the old action star humor as anything. I loved the first film and I expect to love this one. If you were not a fan of the first film, I suspect you won't like this one either.
This trailer also gives us a little bit better look at Anthony Hopkins and the character he is playing, who is apparently a mad scientist. Hopkins often plays is more serious roles but it looks like he's having fun with this one.
Here's the official synopsis, followed by Trailer 2:
In RED 2, the high-octane action-comedy sequel to the worldwide sleeper hit, retired black-ops CIA agent Frank Moses reunites his unlikely team of elite operatives for a global quest to track down a missing portable nuclear device. To succeed, they'll need to survive an army of relentless assassins, ruthless terrorists and power-crazed government officials, all eager to get their hands on the next-generation weapon. The mission takes Frank and his motley crew to Paris, London and Moscow. Outgunned and outmanned, they have only their cunning wits, their old-school skills, and each other to rely on as they try to save the world-and stay alive in the process.