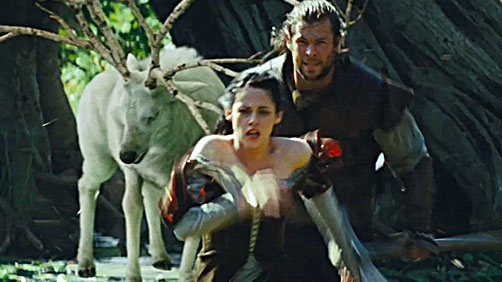 Kevin Jagernauth - The Playlist
Collider reveals that Universal Pictures chairman Adam Fogelson revealed that the studio is aiming the much discussed "Snow White And The Huntsman" for a 2015 release. While the movie wasn't a mega sized smash hit, it still collected nearly $400 million worldwide, and perhaps more importantly: when you have a movie with Bella and Thor in it, you don't toss it out without some serious consideration. There were a lot of rumors last summer about Kristen Stewart being dropped from the sequel following the semi-scandal regarding her relationship with director Rupert Sanders, but last we heard, she's "central" in the studio's plans. However, Sanders won't be back to direct.
I liked Snow White and the Huntsman and was concerned on hearing those original rumors that the sequel would not contain the character of Snow White. But how do you have a Snow White sequel without Snow White? So I'm glad to hear this reaffirmed.
And yeah, from the studio's perspective, there seems like a decent chunk of change to be made here.