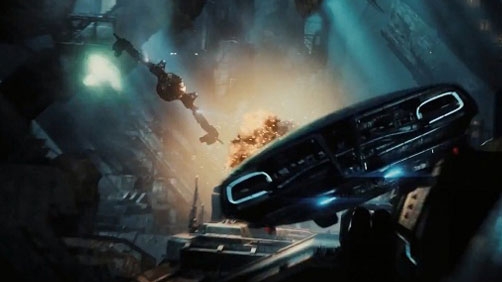 Got a couple of Star Trek posts coming up. This first one is a second clip from the upcoming film. I posted the first one yesterday, and unlike that clip, I have not seen this one in my IMAX screening of the first 9 minutes of the film.
I must say, that this clip demonstrates very well my mixed feelings on J.J.'s version of Star Trek. This very much has a Star Wars feel to it, even the sounds smack of Star Wars. My feeling on that is that J.J. should wait until he's making Star Wars to make Star Wars, let Trek be Trek. But my opinions on this subject are well established.
My other feeling on this clip is that it's a bit to frenetic, you never get a good look at the ships, you feel a little disoriented, and again, it just doesn't quite feel like trek. Where with the first clip I was happy with the pacing and editing, this clip I am not so happy. This feels a lot more like Star Trek 2009 which is what I would expect, but it still disappoints me a little.
Well anyway, watch the clip for yourself.