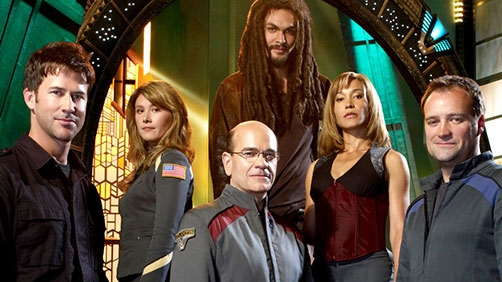 David Wharton - Giant Freakin Robot
Atlantis writer Joseph Mallozi recently took to his blog and revealed some details about where the show would have gone in a hypothetical sixth season. He explains that, as the fifth season was wrapping up, the writers were unsure whether the show would continue with another season, or perhaps a standalone movie, or (as the case proved to be) not at all. To hedge their bets, they decided to pen a two-part season opener that could also be repurposed as a direct-to-DVD movie (to be titled Stargate: Extinction). Sadly, neither saw the light of day.

Mallozi reveals that the movie/premiere would have opened on the moon, which is apparently where Atlantis has relocated (full disclosure: I've never seen an episode of Atlantis, so you'll have to forgive any incorrect assumptions I make). I'll let Mallozi take it from here:
Click through and read further. It's really such a shame that they ended the show and then did the trash that was Stargate Universe. Atlantis had decent ratings and was a GREAT show. I sure loved it. Canceling it was the worst thing that ever happened to Stargate. I wish they would just bring it back frankly. I wish we could have Stargate films from both shows (I don't count the stupid Universe stuff), and a couple of crossover films for both casts too. I mean, you all know that I'm a huge Star Trek fan. Well, I like Stargate more. That's how good it was. It's a crying shame that there is no Stargate on the air anymore. A crying shame.