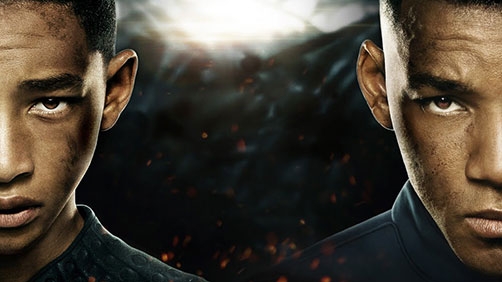 Sci-fi films shall abound this summer, apparently. First we had Oblivion, now Star Trek Into Darkness, then there's the upcoming Pacific Rim, and Elysium. But that's okay with me because I usually like a good sci-fi flick. And that's what After Earth looks like it's going to be — a good sci-fi flick.
But, it is a Shyamalan film, and while he's made some good films, he's also made some bad ones. And in general, his films tend to take themselves way too seriously so who knows whether we'll like this film or not. At the same time, Will Smith has proved himself when it comes to sci-fi, first with Independence Day, then with the not-serious-at-all Men in Black franchise, and of course the great film I, Robot, which I highly recommend. And there's also I Am Legend, and though I take issue with that film, my issues are not with Will Smith's character, but with the script (specifically, the end of the script).
So, my point is, Will Smith is well known in this genre to some extent, and maybe he'll do a good job. Less known is of course, Jaden Smith. It will be interesting to see what he does here.
Here's a clip featuring Will and Jaden Smith in After Earth.