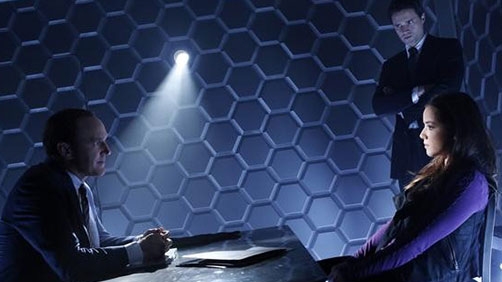 "Someone really wanted our initials to spell out 'SHIELD'"
YES! Joss Whedon humor! How I've missed that on a regular TV show. I'll tell you what, I think this is going to be my go to TV show this fall. And man is this right up Joss' alley. Intruige, mystery, and supernatural circumstances. I sure hope this show does well and has many, MANY seasons!
Fresh from his role in the summer's box office smash, MARVEL'S THE AVENGERS, Agent Phil Coulson (Clark Gregg) returns to the worldwide law enforcement organization S.H.I.E.L.D. He puts together a small, highly trained, team of Agents to tackle the cases that haven't been classified yet, the new, the strange and the unknown. That team consists of straight arrow Agent Grant Ward (Brett Dalton), an expert in combat and espionage; pilot and martial artist Agent Melinda May (Ming-Na Wen); and brilliant if socially awkward scientists Agent Leo Fitz (Iain De Caestecker) and Agent Jemma Simmons (Elizabeth Henstridge). They'll be joined by civilian new recruit and computer hacker Skye (Chloe Bennet).