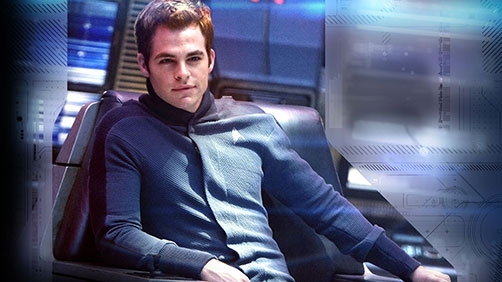 Ready for what is now your near daily dose of Star Trek goodies?
Star Trek Into Darkness premieres domestically this week (is it Wednesday yet?), Wednesday night in IMAX, and Thursday night in theaters everywhere. I'll be firmly planted in the seat of my nearest IMAX theater Wednesday at 8:00 PM, and if you follow me on Twitter, I'll probably tweet my first impressions right after the show.
Interview with John Cho (New Sulu)
As far as goodies today, first up is an interview with "new Sulu", John Cho on StarTrek.com.
John Cho had big shoes to fill on Star Trek (2009), assuming the role of Hikaru Sulu from George Takei. He pulled it off nicely, delivering a performance that tipped its cap to Takei while also sending Sulu in new directions. Now, with Star Trek Into Darkness, Cho returns as Sulu and, as anyone who's seen footage from the movie can attest, he's thrust right back into the action. StarTrek.com caught up with Cho for an interview in which he discussed Star Trek Into Darkness, filled us in on his other current and upcoming projects, and revealed that he'd love to played a Jedi in J.J. Abrams' Star Wars film, even at the risk of the universe imploding.
There's good fun and info to be had there so go check out that full interview.
Interview with New Crew Member Joseph Gatt
Next, Anthony Pascale over on TrekMovie.com has in interview with Joseph Gatt, who landed a role on the Enterprise bridge for Star Trek Into Darkness and it's worth checking out.
One of the more interesting new chraracters on the bridge of the USS Enterprise is played by British actor Joseph Gatt. Known previously for more physical roles (including playing a Frost Giant in Thor), Gatt landed a spot on the bridge of the USS Enterprise. In an exclusive interview wtih TrekMovie.com, Gatt talks about life on the birdge and about his "unique features." Read on for details below, but there are minor spoilers.
The role he's playing, and some other details about the character are interesting, head on over for the details.
Get Your Trek Fix
And finally, I wanted to mention that if you need to get caught up on the Star Trek film universe, iTunes has you covered, as does Amazon Instant, and with several of the films, Netflix has you covered as well. Below, I'll list each film, where you can watch online, and give my star rating for the film.
There you have it, some goodies, and a way to get your Trek fix while you wait on the new film.