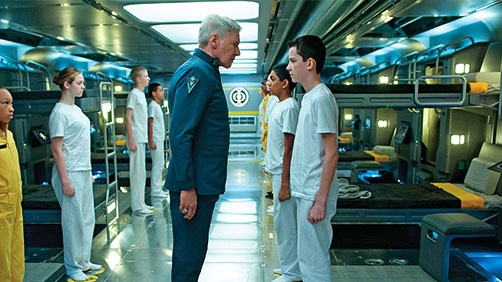 Interesting. I can't say I know anything about the novel this film is based on. So I turned to Wikipedia and learned this:
Sometime in the near future, humanity began to explore the solar system and master interplanetary spaceflight. In doing so, they encountered an alien race known as the Formics, derogatorily dubbed "buggers" due to their insect-like appearance, scouting the system and establishing a forward base in the asteroid Eros. The Formics attacked the humans and the two races entered into two drawn-out wars. Despite political conflict on Earth between three ruling parties, the Hegemon, Polemarch, and Strategos, a peace was established and an International Fleet (IF) formed to combat the Formics. In preparation for the buggers' inevitable return (dubbed the "third invasion") the IF created the Battle School, a program designed to find children of the best and brightest tactical minds and to subject them to rigorous training so as to defeat the Formic threat once and for all.
Sounds like an interesting Sci-Fi plot.
Here's the info on the YouTube video of the trailer announcement:
Based on the best-selling, award winning novel, ENDER'S GAME is an epic adventure starring Asa Butterfield, Hailee Steinfeld, Ben Kingsley, Viola Davis, with Abigail Breslin and Harrison Ford.